Installing XBMC on Windows 7 is normally extremely easy and straight forward. However, if you want to install XBMC on a Windows 7 virtual machine that is setup within VirtualBox, then it'll take a few additional steps. If you want to learn how, continue reading.
Overview
Boot Windows 7 virtual machine in safe mode
Install Guest Additions
Enable 3D Acceleration and increase video memory
Install XBMC
Boot into safe mode
Boot up your Windows 7 virtual machine normally
Click on Start button
Type msconfig and hit enter
Click on the BOOT tab
Check Safe Boot
Click OK
After rebooting, the following window will pop-up. Simply ignore and close the window.
Instal Guest Additions
Download the Guest Additions .iso for your version of Virtual Box to your

host

computer

: http://download.virtualbox.org/virtualbox/
On your virtual machine, under the Devices/CD/DVD Devices menu, select "Choose a Virtual CD/DVD disk file…"
Navigate to the downloaded .iso file and select it. This is analogous to inserting a cdrom with this .iso into the CD/DVD drive. I downloaded the latest version to match my version of VirtualBox. It was named: VBoxGuestAdditions_4.2.18.iso. (Now you may be wondering why I simply didn't select Install Guest Additions… from the Devices menu. This is because that points to the original GuestAdditions.iso file in the VirtualBox install folder on my host computer. The problem is that I've upgraded my version of VirtualBox, so I needed to use a version of Guest Additions that matched.)
Open an Explore Window and navigate to the CD-ROM. Double-click on VBoxWindowsAdditions.exe to install.
On the Welcome window, click Next
On the Choose Install Location, the default location is fine, so click Next
On the Choose Components window, check the box that says Direct 3D Support
New pop-up window asking to install basic 3D support. Click Yes.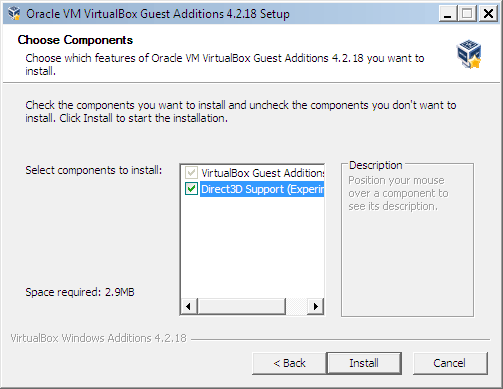 On new window, check Always trust software from "Oracle Corporation", then click Install
When complete, the final window will appear. Check I want to manually reboot later. Then click Finish.
Click on Start button
Type msconfig and hit enter
Go to BOOT tab
Un-check Safe Boot
Click OK
Click on Exit without Restart
Shutdown the virtual machine
Enable 3D support
 Back in VirtualBox, open the Settings panel for your virtual machine.
Click on Display in the left-hand column
Check Enable 3D support
Increase memory to 128MB
Click OK
Boot your virtual machine
Install XBMC
In your virtual machine, download the latest version of XMBC for Windows
After downloading, double-click the installer
If a User Account Control window opens, click Yes
On the XBMC Setup window, click Next
On License Agreement window, click I Agree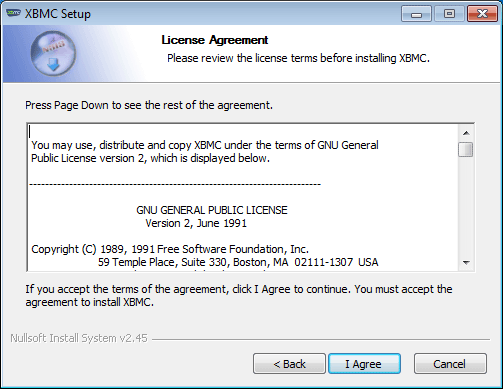 On Choose Components window, click Next
On Choose Install Location window, click Next
On Choose Start Menu Folder window, click Install
On the final window, check Run XBMC and click Finish

XMBC is now installed on your Windows 7 virtual machine in VirtualBox.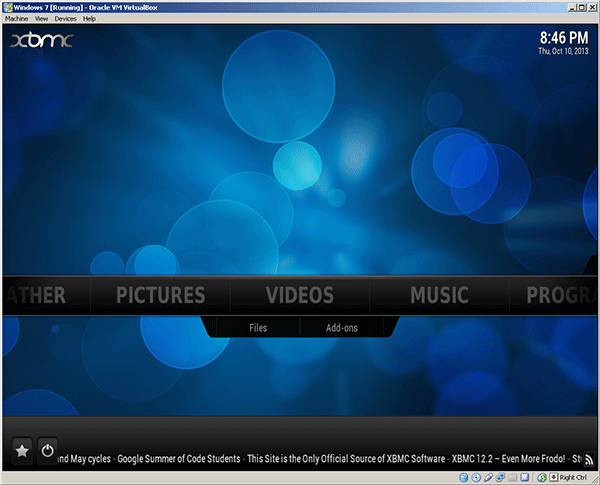 Have fun!!!!!