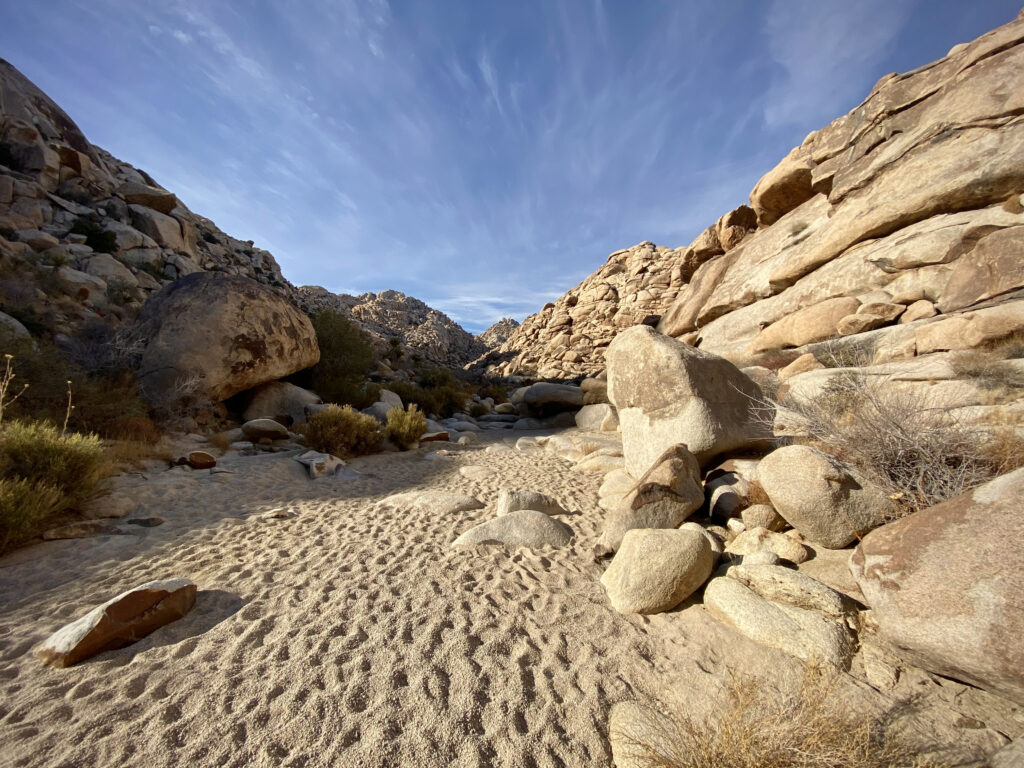 I have been to Joshua Tree National Park so many times over the years that I cannot remember how many. Despite that, however, I had never explored Rattlesnake Canyon. It was time! So after a three-day backpack trip with my nephew, we spent a good part of a day scrambling over and under boulders, some larger than a house. What an adventure!
For this hike, my intention was to make it from the Rattlesnake Canyon trailhead all the way to Willow Hole and back. I set this goal because I have future plans for a 35 mile backpack trip that will venture down Rattlesnake Canyon from Willow Hole. So if I can successfully navigate up the canyon and back, then I'll have confidence with my future backpacking trip.
For those unfamiliar with Rattlesnake Canyon, it starts out simple enough in a sandy wash but quickly changes to a pile of boulders up the main canyon and spreading out in all directions. One can really explore the area for an entire day if desired without any specific route in mind. But I had a detailed route that I intended to follow that I hoped would be relatively easy and gain me access to Willow Hole.
Trip Details
TRIP DATE Jan 8, 2021
LENGTH About 4 miles, point-to-point roundtrip
ELEVATION GAIN 1347ft
TRAILHEAD Beginning and ending at Rattlesnake Canyon Trailhead
DIFFICULTY difficult to strenuous
WATER Unreliable sources in canyon. Bring your own.
Download the GPX file here: Rattlesnake Canyon to Willow Hole
While hiking this route, navigational skills and map-reading are required. Following a GPS and/or a printed map are needed to correctly find the indicated route. This is not really a trail but more of a scramble. There is third class scrambling and boulder hopping the majority of the way. As such, rock climbing skills will make things easier and are highly recommended but not required. Climbing gear is not necessary.
Long pants and a long-sleeve shirt are recommended. The granite rocks can be sharp, but gloves are not recommended simply so that you have a better feel and grip. Boots or shoes with sticky soles and grip will make things easier.
The route marked indicates that this is about 4.2 miles out-and-back. But your hike will most likely be longer due to all the zig-zagging and route-finding.
Plan about 4-5 hours round trip, possibly more depending on your skill level. It can get very hot in the canyon, so an early start is suggested. Bring plenty of water. Dogs and drones are not allowed.